Man, oh MAN was it cold for Halloween. It was reminiscent of halloweens past in Northern Maine.

We went trick or treating at Ft. Riley with my friend Sandra and her girls. There are 5 duplex buildings (10 units) in our neighborhood, and that's it...I figured no one would be ringing our bell (and I was right). I premade goodie bags for the kids in the circle and handed them out as they got off the bus. Since I was not going to be here, I figured I'd get them right away. Scott was sick with the stomach bug that all of us have gotten, so he was trying to rest - I'm glad the doorbell didn't ring to bother him....anyway, I digress.

So...I loaded up the kids and headed to Sandra's house. She had made chicken nuggets and fruit for the kids to eat before we left. I suited up the kiddos in many layers. Scotty was wearing his fleece-lined jeans, a long-sleeved shirt, a zip up sweatshirt, and his costume, which was Bob The Builder.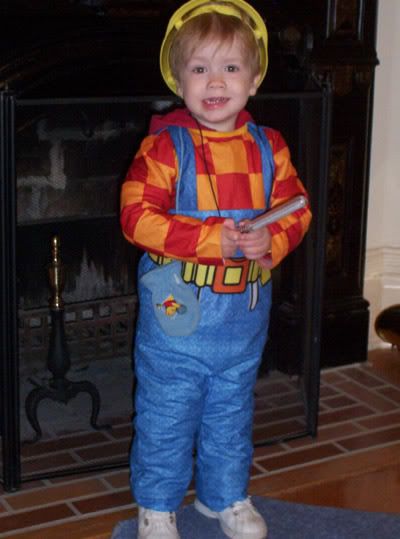 Hannah had on long-johns (top and bottom) along with tights and a turtleneck, but still made a very cute Tinkerbell. It was C.O.L.D. BRRRRRRRR.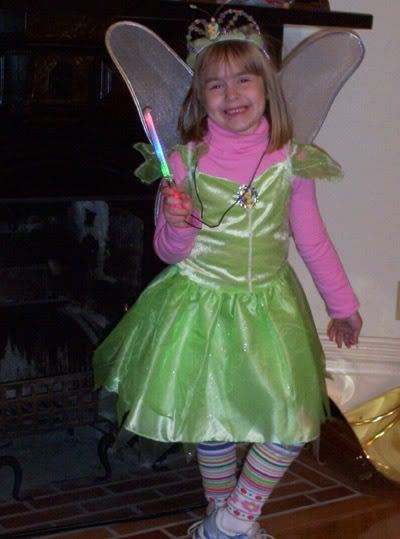 After posing for pictures, we headed outside. In true military fashion, the sirens sounded to officially kick off the trick or treating. The first thing we were greeted with was the Cavalry! They were riding down the street with a "belle" giving candy to all the kids. I cracked up at the guy with the dog and the golf cart - the official pooper scooper! (gotta keep those post streets clean!)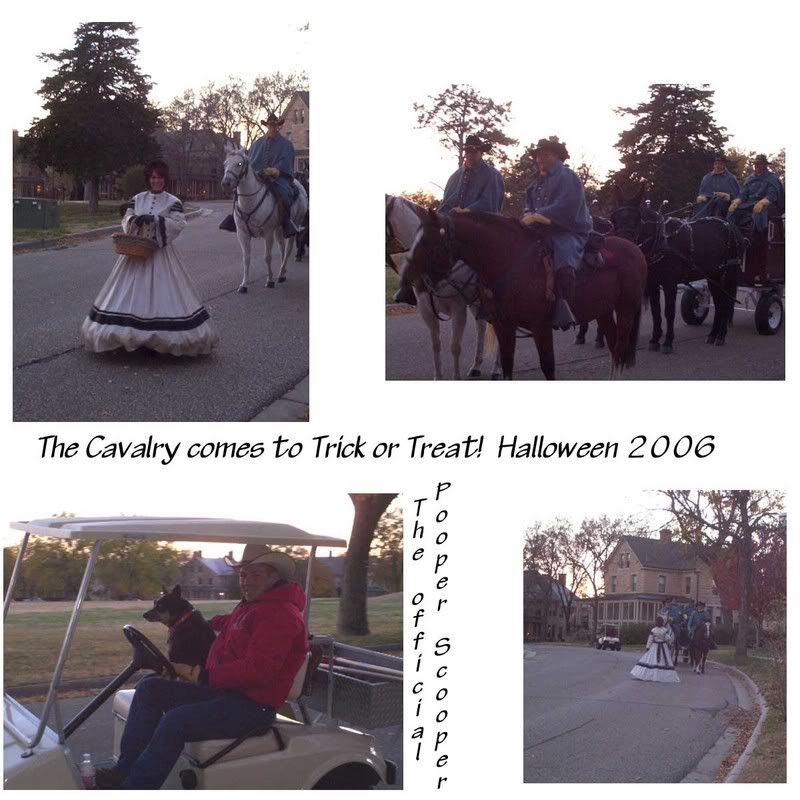 After hitting most of the houses on the circle and a few others, we were pretty much done. I'd carried Scotty for a good part of this, as he didn't want to walk (I really MEANT to get the stroller out of the car). But he was a great sport about it - he LOVED getting the candy. And no matter how many times we told him to say "trick or treat", he'd go up to the people and say "more candy please". He tried to help himself to many of the bowls in people's hands. He tried to take candy from someone's bucket once! He would hold his bucket in one hand and then hold out his HAND instead of the bucket. He was a total hoot!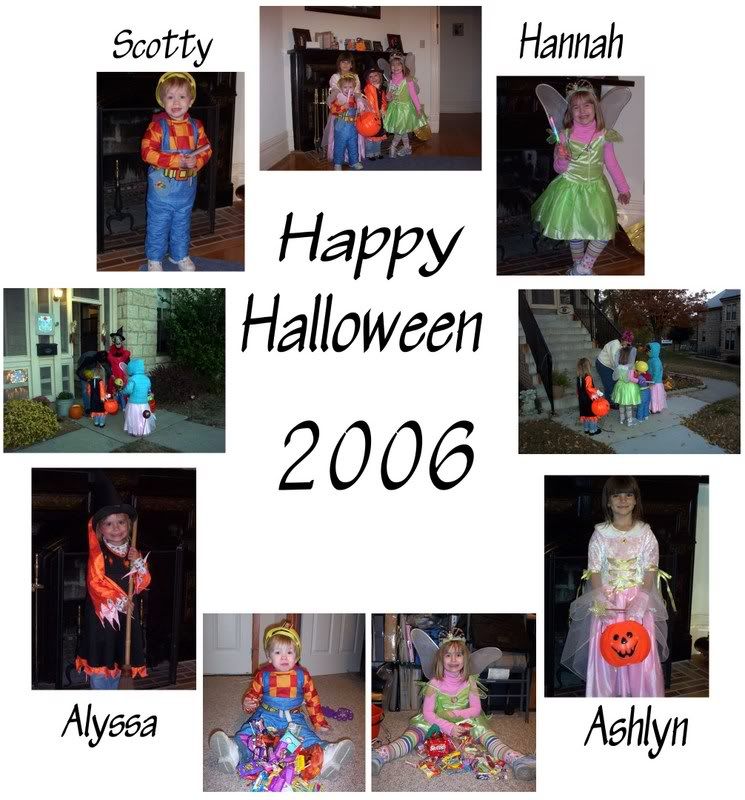 Hannah had a great time with Ashlyn. They are such good friends since Germany, but don't get much time together. Ashlyn has full day kindergarten, and Hannah goes in the afternoons. Weekends are most often family time, so we appreciate any time we get with them.

After we left post (around 6:30 p.m.) we came home and went to the three houses with lights on. I knew one neighbor had bagged candy for my kids (she told me so), and the other two neighbors were trying to put all the rest of their candy in the kids' buckets! I had to politely decline.

We came in, the kids ate some treats (my stomach is still not quite right) and we called it a night. Phew...I was tired.