Normally, I wouldn't be posting a scrapbook layout here, I usually do that on my scrapbooking blog (Scrapper's Block - go check it out!) but I know not as many people read or look at that blog, so I thought I would post this here.

It is with a grateful heart that I thank Carmi Levy of Written, Inc. for the use of his photo. He posted it on 9-11, having been lucky enough to take this in NYC just prior to the 5th anniversary of the terror attacks. When I saw it, I knew it had to be part of my tribute album (and pathetically enough, I have not yet started the darned thing). So I emailed Carmi and he graciously allowed me to use the photo. You can see the original photo here.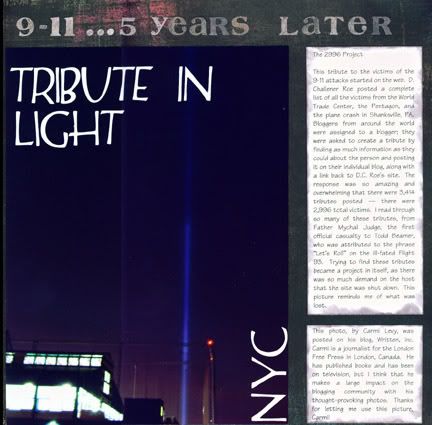 The journaling reads as follows:

the 2996 Project

This tribute to the victims of the 9-11 attacks started on the web. D. Challener Roe posted a complete list of all the victims from the World Trade Center, the Pentagon, and the plane crash in Shanksville, PA. Bloggers from around the world were assigned to a blogger; they were asked to create a tribute by finding out as much information as they could about the person and posting it on their individual blog, along with a link back to D.C. Roe's site. The response was so amazing and overwhelming that there were 3,412 tributes posted - there were 2,996 total victims. I read through so many of these tributes, from Father Mychal Judge, the first official casualty to Todd Beamer, who was attributed to the phrase "Let's Roll" on the ill-fated Flight 93. Trying to find these tributes became a project in itself, as there was so much demand on the host that the site was shut down. This picture reminds me of what was lost.

This photo, by Carmi Levy, was posted on his blog, Written, Inc. Carmi is a journalist for the London Free Press in London, Canada. He has published books and has been on television, but I think that he makes a large impact on the blogging community with his thought-provoking photos. Thanks for letting me use this picture, Carmi!

There is very little to this layout. There is eventually going to be a 2nd page to it, but I am patiently awaiting some names from a friend who lost people that day. When I get those names, I will find the 2996 tributes and put part of them onto the 2nd page, along with another tribute in lights picture - this one of the Pentagon.

Even though I have yet to start the 9-11 tribute album, this layout was screaming to be done, and so it was.