Hope everyone had a happy Thanksgiving. We went to the Clarion hotel for their buffet. It worked well since kids 5 and under were free...and given the fact that Scotty ate watermelon, pineapple and 1 piece (a 1/2" by 1/2" square, mind you) of ham, and 2 bites of his roll, it's a darned good thing he WAS free!

They had an awesome menu, though. A huge variety of breads (from sweet rolls to sliced wheat bread and everything in between), a few different salads (who eats salad on Thanksgiving, anyway????), and lots of everything in between. Fresh peas and carrots (yummy), corn and bacon gratin (VERY yummy), red skin mashed potatoes (skin still on), cranberry gingersnap stuffing, honey dijon ham, gingersnap turkey and gingersnap gravy (honestly, I didn't taste the gingersnap, but it WAS very tasty)...oh, yeah...add the carved roast beef, peel and eat shrimp, crackers, 10 different cheese varieties, the amazing fruit display (hence all the watermelon that Scotty ate). And dessert...yeah...pumpkin pie (yes, I had my requesite slice, since I am the only person in my house who eats it), cappuccino mousse, triple chocolate cake, a variety of cheesecakes, and an apple spice cake...and best of all, I didn't have to clean up afterwards!!!!

So...it was worth it. Hannah did eat much better than Scotty, and even had some mousse to top it all off (this kid hates "whipped" stuff so I was surprised).

And thanks for all the anniversary wishes. I got a few nice things...an awesome new wireless keyboard and mouse which is very media friendly (it has special hot keys that instantly start your choice of music media and photo media, along with programmable hot keys to open everything else - YEEE HAW!) And the mouse is very nice - I HATE wired mouse!

Oh, and I got THIS too:




Amazing...I can count on one hand how often I have gotten flowers...and these are EXCEPTIONAL in quality. How do I know? I got them on Tuesday...it's now Friday and they STILL look gorgeous, and they are opening slowly and oh so FRAGRANT. I am loving these, since they are truly a special treat!

Turkey anyone?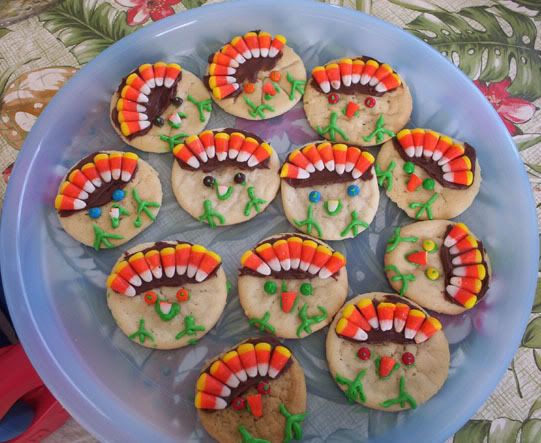 Hannah's class had a "feast" on Wednesday, and I was in charge of providing "a decorative cookie or Thanksgiving treat" for her classmates. These were a hit. SO easy to make. And yeah, if you don't feel like making the cookies, it is perfectly acceptable to buy them premade. I did make about a dozen...but I had to buy some because I forgot I had an appoinment for my very first mammoslam (slam my mamms please) and had planned an leisurely morning of baking and decorating cookies...did NOT happen! So, I did what I could. Canned icing (both chocolate AND the green stuff), mini baking M&M's and candy corn...what else could you want???

Along with the feast came this: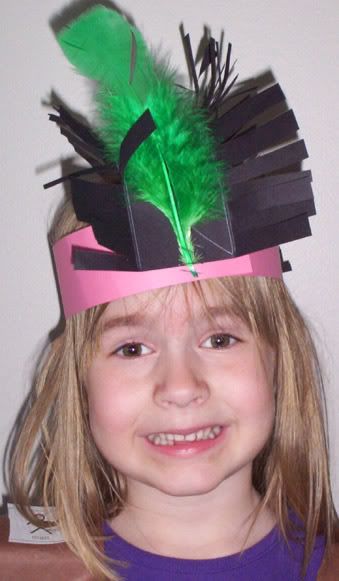 Yeah...that's a mohawk she's sporting. She was happy to be an Indian...she whoops and hollers like one anyway!

If any of y'all are/were crazy enough to go out this morning, hope you got your hearts' desires. Me, I was awake at 5:55 a.m. and SAW the line at Target (refer to past post on November 1 about how close I am to Target) - it was wrapped around the building. uh - huh...crazy folks! I was nice and toasty in my house feeling sorry for them!